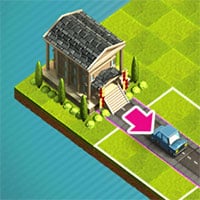 Twisted City is a fun logic puzzle video game where speed and quick thinking is crucial to get higher score. In this game, your goal is to connect a road from the starting building to the destination building. Every round, there will be more than one starting building and destination building depending on the Mayor's directions. The game features 30 levels and 6 bonus levels where the rules are different. Rotate or swap road titles to accomplish your goal.
Twist the streets and follow the Mayor's instructions! Solve the puzzle as quickly as possible and with using the least moves in Twisted City! Get to the pizza shop and send the Mayor's daughter to school by twisting the roads!
Twisted City is a free online puzzle game on Round Games.