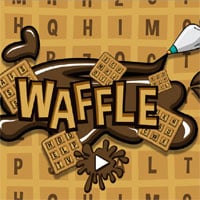 Waffle Words is a fun word puzzle video game where your goal is to draw a line to connect letters and spell out an English word. The game's objective is to create as many accepted words as possible with the time allotted. Each letter has their own corresponding points that will be added to your score pool when used. The longer and rarer the word you play, the better your score will be! What is the longest and hardest word you can come up with?
Play with food and with words in this fun puzzle game! Take a good look at the waffles and discover many words hidden the jumbled letters in Waffle Words! Try to create as many words as possible in 2 minutes in Waffle Words Game!
Also make sure to check out Hex Zen Game, Roll the Ball, Adam and Eve 8, Pick A Lock and Mickey Mouse Bump in the Night Game. We picked up these games for you from our puzzle games. So have fun.