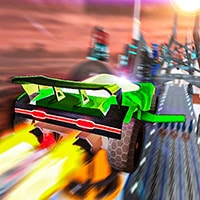 Get ready to proceed to next-generation the flying cars games with the Flying Cars Era Game! A superb and very long adventure is waiting for you. The game consists of three game modes. These modes are Free Drive, Challenge, and Race. You can play all of these modes either 1 player or 2 player. There are five flying cars that will company you within Flying Cars Era Game. You will be able to buy three of them with the in-game diamonds. If you want to make your game more fun. So we strongly suggest you call your friend and play the game in two player game mode.
Flying Cars Era Game Online Modes:
In Free Drive game mode, you can drive your car in the huge game map and drive your car however you like and you can jump from the ramps and collect diamonds. After you jump over the ramps in Flying Cars Era Game. Each time you pass through a circle you will earn five diamonds. You can find diamonds around the map and you can increase your diamond count.
In Challenge game mode, you will race inside ten maps against time. Your goal in this chapter is to get to the finish line within the given time. Your goal is to get over the obstacles on your way and you should get to the finish line by flying one to another. A super game mode in Flying Cars Era with super levels and supercars is waiting for you!
In Race gaming mode, you'll race against five CPU racers in eight racing maps. Each race in this Flying Cars Era Mode has 2 laps and your goal is to get to the finish line in the first position. If you can be successful at the races, you will unlock the next level's lock. Also if you can take place in first, second, or third place, you will earn some diamonds.
Also make sure to check Real Flying Truck Simulator Game and Flying Motorbike Real Simulator Game. You may enjoy playing them.