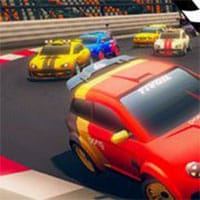 Mayhem Racing is the 3D racing game in which you control an RC car of your choosing and race around an amazing selection of race courses. There is a selection of 10 different awesome RC car models to choose from so select your favorite and hit the track!
It will take skill and determination to master the handling of these RC cars so practice in time trial mode and learn the stunning 5 tracks available to race on. Once you are confident jump into a single player race or if you are feeling really confident grab a mate and play local 2-player to really win bragging rights. Have fun!
Mayhem Racing is a free online racing game on Round Games.