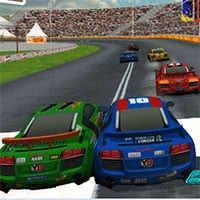 Racing Thunder is a simple yet wonderful 3D racing game featuring a beautiful 3D graphics and smooth framerate. The game features a total of 6 vehicles, 6 tracks, and 6 paint jobs per vehicle. The goal of the game is to be the first to cross the checkered flag on all race tracks and win the first price. Unlock all vehicles and tracks and keep on practicing to earn more points. Compete against the scores and records of real players from across the world and have fun!
Put on your racing helmet and rev up your engines in this wonderful 3D racing game! Complete all tracks and make it to the leaderboard in Racing Thunder! Do you have what it takes to be a NASCAR racer?
Racing Thunder is a free online racing game on Round Games.