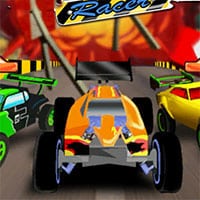 RC Super Racer is a fun racing game where you must drive a remote control toy car and race across the neighborhood against other RCs. Collect power-ups and use it wisely to turn the race around! Use speed boosts to gain advantage or change the tide of the race with one hurricane attack! Choose your own car, and track and get ready for a wild toy race! All cars and tracks are unlocked already, and you can play with friends in multiplayer mode!
Take your RC toy car in a fast-paced race across an actual go-kart race track! Drive on full speed and beat your opponents in RC Super Racer! Collect power-ups and use different tricks to have an advantage over your opponent.
RC Super Racer is a free online racing game on Round Games.