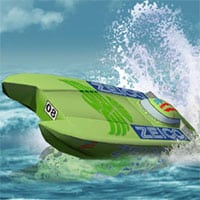 Speedboat Racing is a fast-paced 3D browser-based racing video game featuring cool speed boats. The game features beautiful 3D graphics and smooth gameplay that will let you experience the thrill of racing through rough waters. The game features many levels and tracks to complete, as well as motorboats to unlock, purchase, and use. Will you be able to complete all water tracks and courses, and unlock all achievements?
Get on your speed boat and start dashing through the waters in this fast-paced water racing game! Get ready to get wet as you dash through the surface of the water at an outrageous speed.
Speedboat Racing is a free online racing game on Round Games.