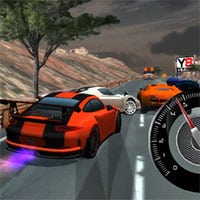 Super Speed Racer is a highway racing video game developed by Studd Games. In this game, you will choose your team and each team has its own race car. Collect coins or get a turbo boost while driving your car. You can play the game solo or have fun with your friends in multiplayer mode. In multiplayer mode, you can connect the game locally or online with players from across the globe. There is a game lobby for multiplayer mode where players can create and join a room. Register to the game and submit your best score and join the leaderboard!
Drive as fast you can and show them who is the king of the road in Super Speed Racer! Step on the gas pedal and accelerate your way to victory! Compete with the other teams on various race tracks and have fun!
Super Speed Racer is a free online racing game on Round Games.