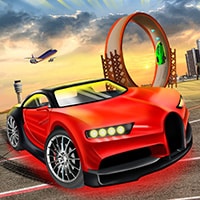 In Top Speed Racing 3D Game, get ready for the most challenging and extreme racing experience you've ever had. Every difficult level and unimaginable obstacle will put you to the test. You'll be able to pull off amazing stunts like a pro. To earn money, try to participate in as many events as possible. But that's not all, you'll also have a great time personalizing your ride with fashionable accessories. Top Speed Racing 3D Game includes everything from choosing your ride to customizing, driving, and performing stunts. It's all right here! Play now for FREE and discover a whole new and revolutionary level of driving!
Top Speed Racing 3D Game Features:
Graphics Quality: You can choose between Low, Medium, and High. There are more than fifteen cool rides to choose from, each with its own speed, handling, and offroad abilities. To help you drive faster, you can upgrade your engine, turbo, tires, transmission, suspension, and nitro. You can customize the following to make your ride look even better in Top Speed Racing 3D: Rims, paint, window tinting, tuning stance, vinyls, LEDs, and metal plating are just a few of the available options. Rims: A total of twenty-nine different Rims are available. Paint: The entire body, the rims, the caliper, the hood, and the roof can all be painted, and the glossiness can be adjusted. Turning Stance: Camber and Height can be adjusted Vinyls are classified into three types: plain, colorful, and camouflage. LEDs are available in 14 different colors.
Top Speed Racing 3D Game has four modes: free mode, traffic mode, police chase mode, and stunt mode. Police Chase and Stunt Mode will be available soon. RESET OPTION: Use this option to return to the previous checkpoint. Settings allow you to change the size of the buttons and dashboard. As well as the view distance, arrow sensitivity, and steering wheel sensitivity. Camera View: There are two camera views to choose from.
Also make sure to check Speed Club Nitro Game, you may enjoy playing it.