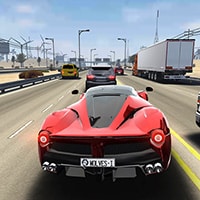 Traffic Tour is a highway racing online game where you speed through traffic jams and avoiding obstacles. Navigate your way in a straight highway between cars and trucks. Traffic Tour is a new endless arcade racing game that takes you to another level of smooth driving simulation and high graphics quality. It is designed for the traffic racer fans with advanced features which make this racing game the leading cars games for free. So enjoy and have fun.
Traffic Tour Game provides real online racing experience and realistic graphics. Choose your best racing cars and challenge other players in a real-time multiplayer mode. Join 100 different online missions and get prizes by beating your opponents. Enjoy car racing with your friends through 1V1 game. Traffic Tour has a great CRS (car racing system). Unlock new cars by collecting more Blueprints in endless mode. When driving over 100 km/h, try to overtake traffic cars to get bonus scores and cash. Get extra cash when endless mode. Driving in opposite direction in two-way gives extra score and cash. So do your best and go ahead.
Traffic Tour Game Online Features:
Unlimited car racing play. No fuel or time limits. Multiple control modes: Tilt, buttons or steering wheel. 5 gameplay modes: Multiplayer, Endless, Career, Time Trial, Free Run. 100 missions in career mode. Also it has 5 realistic environments: Highway, City, Desert, Rain and snow with day or night times. 40 different cars with the ability to customize colors and wheels. Traffic Tour Game provides online upgrade cars features: Speed, Handling, and Brakes. Multiplayer racing, challenging friends and players from all around the world.
Also make sure to check Racing Horizon Game, you may enjoy playing it.
The gameplay video is available on YouTube: