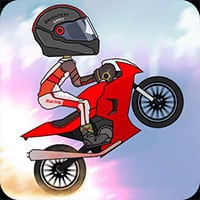 Up Hill Motocross Race is a 2D motorcycle racing video game featuring a total of 15 challenging levels. Collect coins to earn some money to buy new bikes and upgrade existing ones. The ultimate goal of the game is to finish first on all 15 tracks and be the champion of the race. Use nitro as often as you can and time your nitro-boosts to gain an edge in the race. Upgrade your bike's horsepower and gears to improve the overall performance.
Put on your hard helmet and get ready for some intense race through 15 cool levels! Perform a variety of tricks and stunts in this 2D racing game – Uphill Motocross Race! Unlock more advanced motorbikes and compete against four other bikers!
Up Hill Motocross Race is a free online racing game on Round Games.