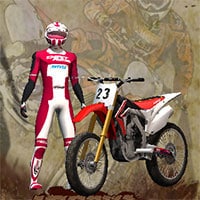 Xcross Madness is a cool 3D motorcycle racing game with many game modes. The game features your regular racing game where your goal is to be the first to cross the finish line against other racers and a cool stunts game where your job is to earn as many points as possible by performing awesome tricks and stunts. The game also features several different types of races. You can even create your own team in career mode or challenging other online players.
Test your skills in both racing and stunts in this awesome 3D motorcycle game. Challenge other players in Xcross Madness! Race against other racers or try to earn as much points by performing various dangerous stunts!
Xcross Madness is a free online racing game on Round Games.