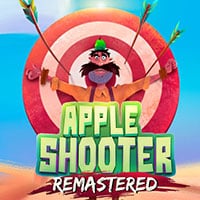 Apple Shooter Remastered is the updated classic apple archery game in which you have to shoot the apple off of the man's head with your super sharp arrows. You must make sure that you do not hit the man or as you can imagine it will not end well for him.
You will score more point the less shots that you take however if you hit the man then it is game over. To begin with maybe aim high so that you can home in on the correct power and angle to get closer to the apple and then eventually hit it. Good luck!
Apple Shooter Remastered is a free online shooting game on Round Games.