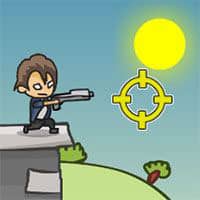 City Heroes is a defense shooting game where a horde of robots will come and get to your city both in the land and in the air. Your mission is to protect the city wall and prevent it from collapsing by shooting down enemy robots. Later in the game, you will have allies to fight along side you and will be able to unlock various skills like call an airstrike or throw a grenade. Use the money you collected to upgrade your skills and gun. Have fun!
Robots have invaded the planet and it's up to you to take arms and defend your city! Shoot down incoming robots in City Heroes! Call in an airstrike, throw a grenade, or plant a dynamite! Don't ever let the robots go pass you!
City Heroes is a free online shooting game on Round Games.