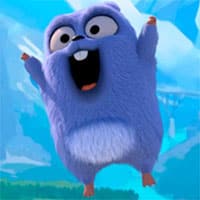 Lemmings Sling is a fun physics shooting/ launching video game based on the popular cartoon show Grizzy & The Lemmings. Your goal is to launch the cute Lemmings, with your slingshot, up in the air and into the moving boxes. After the time runs out, all Lemmings that have been successfully placed inside the box will form their own tower by climbing on top of each other. Will you be able to slingshot your way to the high score?
Slingshot the cute Lemmings into the boxes and build the highest Lemming tower after in this fun physics launching game – Lemmings Sling! Grab time bonuses to extend your time and keep on shooting. Have fun!
Lemmings Sling is a free online shooting game on Round Games.