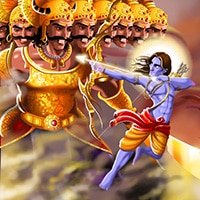 Ram the Yoddha Game is a great combination of action and role-playing games (RPG). Ravan – The king of the evils is always ready with evil plans and Lord Ram on his quest to defeat the army of Lankapati Ravan. In this game, you need to kill different evils which will appear on the screen. You have to drag the bows and release them to kill evils. Each evil have different points which you can get by killing them. The best part of the Ram the Yoddha game is as Lord Ram you will never be killed or attacked by the evils. But you need to save your bows as you have only limited bows to kill the evils. So, be careful and fast too, as the time is also running.
Make sure you don't miss the chance in Ram the Yoddha Game. To fight against the most dangerous evils, you may need more powerful weapons. For this purpose, you will also get some supernatural weapons (as power) in the game to kill the evils. Apart from this, you can also get more bows by collecting the power of the bows. So, celebrate the victory of good over bad by playing the Ram the Yoddha game.
Also make sure to check Super Bowmasters Game and Stickman Archer: Mr Bow Game. You may enjoy playing them.