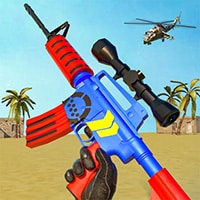 Real Shooting Fps Strike is a number 1 3D fps offline shooting and sniper game. It is designed for FPS fans. Join the battle and destroy all enemies as a commando to save the world. It is free to play, and it is one of the best shooting games. New 30 different maps, new weapons, new game modes are waiting for you in this incredible action game. You and terrorists are going to engage in the battle. So if you have a craze for playing terrorist shooting games, you will enjoy the arena in this free Real Shooting Fps Strike Game. Play this fantastic new fps shooting game to show your target shooting skills. Aim to shoot with heavy and auxiliary weapons as a first-person perspective shooter.
Gameplay and missions in Real Shooting Fps Strike Game:
In this shooting fps game, you need to pass each level to go to the next one. Real shooting Fps strike is a mission game. So you will have to kill all the enemies in the mission to go onto the next stage. You will be rewarded with money after each level. With this reward, you can buy and upgrade your guns and make yourself strong. It is a pistol game, so you can move around the free map and kill enemies with your arsenal. You can crouch and proceed with the spindle to dodge enemy bullets and kill them. After every mission, you will get money for new weapons. Then you will be automatically sent to the next level.
In Real Shooting Fps Strike Game, you need to pass all the levels to end the storyline. It is a first-person perspective (FPP) game with Real HD visuals and superb audio quality. Move around the level map, kill the enemies, purchase and upgrade your new weapons to complete challenging missions. Real Shooting Fps Strike will challenge you with several new objectives. So you will have to eliminate all of the opponents to advance to the next round.
Also make sure to check Command Strike FPS Game and Critical Strike Zero Game. You may enjoy playing them.
The gameplay video is available on YouTube: