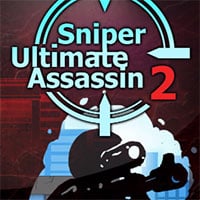 Sniper Ultimate Assassin 2. A cool sniper shooting game where you play the role of a merciless killer and eliminate your targets indicated on every mission. In Sniper Ultimate Assassin-2, use your sniper rifle as your choice of weapon to get your job done and try not to hurt any civilians. Read carefully your mission. There will be other people standing by and it could get confusing to know who's the target. So take your job serious and make no mistakes. Revenge tastes twice as sweet when you have got nothing to lose.
You may also enjoy playing Counter Force Game, that we picked up for you from our shooting games.
Sniper Ultimate Assassin 2 is a free online shooting game on Round Games.