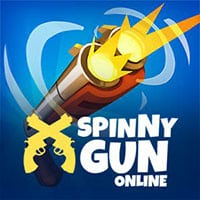 Shoot as many targets as you can in this addictive game Spinny Gun Online! Prove the world you are a true shooter by gunning down all the bosses! Collect coins shooting the targets and use the money to buy new guns in shop, a lot weapons, a lot bullets. Use Shotguns, pistols, machine-guns, rifles and more. Spinny Gun Online is a simple online game, where you'll be trying to his all of he yellow targets. The gun is always spinning and the targets are always moving, so it won't be that easy.
Aside from that, you have limited ammo in Spinny Gun Online. Together with the yellow targets, there are also red targets moving around. Try to get as far as possible and to earn enough money. You can use the money to unlock a new weapon, even though you can't pick one yourself, since the game will unlock it randomly. Show everyone that you're the best shot around and shoot down all of the targets without flinching in Spinny Gun Online Game. Reach the high-scores to be the best spinner gun. You can play this game on all devices. So enjoy and have fun.
Also make sure to check out Flip the Gun Game, you may enjoy playing it.