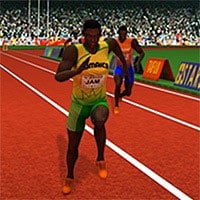 Travel around the United States and complete in the 100 meter race. Choose which country you want to represent. Can you be like Usain Bolt and win gold? Run as fast as you can. Get pumped for the upcoming summer Olympics.
You must score in the gold, silver, or bronze to move on to the next level.
Have fun furiously tapping left and right. This game is one of the sports games at Round Games. Enjoy and have fun in playing this free online game. Go for winning and good luck.
100 Meter Race is a free online game on RoundGames.