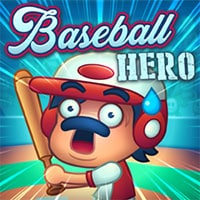 Baseball Hero. Hit your baseballs hard and… avoid bombs and tomatoes! Improve your ability hitting multiple balls from different positions! Baseball-Hero is the intense arcade game in which you need to hit as many homeruns as possible. You are a talented baseball player and it's your turn to step up to the mound. Be prepared to be bombarded as baseballs will be pitched at you at rapid pace!
Try to hit as many baseballs as you can as you can only get three strikes before you are out! Be careful as the pitcher has a few tricks up their sleeve. Every now and then they will pitch bombs at you! Make sure you avoid hitting them otherwise it will blow you to pieces! Good luck!
Baseball Hero is a free online sports game on Round Games.