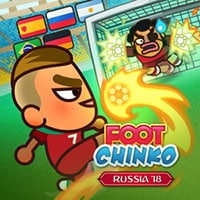 Foot Chinko World Cup features a different take on soccer games with a unique blend of pachinko and pinball. As fun as soccer can get! It is the virtual version of the family favorite soccer game – Foot chinko! This is the 2018 world cup version and you get to play with your favorite nations. If you have never played foot chinko before, firstly where have you been! Secondly you are in for a treat!
The rules are exactly the same as usual soccer, score more goals then your opponent to in the game and be victorious. Take control of the ball and pass between your team's players, find the space in your opponent's defense and take a shot at goal. Aim for the corners to make your shot unstoppable and score the goal that could win you the game.
Foot Chinko World Cup is a free online sports game on Round Games.