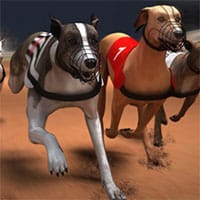 Greyhound Racing is a racing simulator video game that features a competition between racing dogs where you can bet cash to win. This video game features realistic graphics that makes you feel that you are really watching a real life dog race. In this game, you will choose between six greyhounds. The names of the greyhounds are Psycho, All Saturdays, The Norman, T-rex, Nice Tuft, and Baloo. You will begin with 100 dollars and bet your money to gain thousands of dollars.
Analyze the statistics of the racing dogs and place your bet in Greyhound Racing! Try your luck to win the big prizes at stake. Select the trap or the place of your desired greyhound to finish and place your bet and pray that your chosen dog will win.
Greyhound Racing is a free online sports game on Round Games.