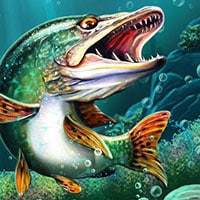 Let's Fish, join the most popular Sport Fishing Game in the World! Visit stunning fishing locations and enjoy hours of relaxing game play with the ultimate fishing simulator app. Every fisherman or angler knows there's nothing like coming back from work, picking up fishing tackle and heading to the nearest ocean or freshwater lake for some quality sport fishing. If it's the fishing off-season, or you don't have a fishing boat, simply open Let's Fish!
With realistic scenery, you will feel like you are on an actual fishing trip, holding your fishing rod, staring at the water and waiting for a fish to take the bait. You like fishing? Then let's go fishing. Try and catch all type of fish in the sea. Pick the best fishing spot, relax, and catch them all. So try to catch the biggest fish in Let's Fish Game.
Also make sure to check out Indy Cat Game and Duos Tropical Link Game. You may enjoy playing them.