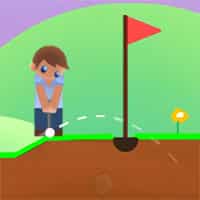 Mini Golf Hole in One Club is a cool 2D golf simulation game where your goal is to complete and finish the course with the least amount of shots possible. Take your putt-putt skills to the test and try to shoot the ball with only one shot. The game features 5 locations, having 18 levels each. The 5 locations are: Grassy Plains, Snowy Arctic, Dark Caves, Desert Sand, and The Forest. The location affects the control of the ball, so make sure you plan your shots ahead.
Get the ball to the hole with as few swings as possible in this fun golf game. Use your excellent aiming skills in Mini Golf Hole in One Club! Aim your shot correctly and try to successfully get the elusive hole in one!
Mini Golf Hole in One Club is a free online sports game on Round Games.