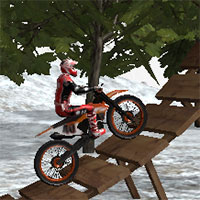 Moto Trials Winter 2 is a challenging 3D motorcycle racing game where your goal is to overcome various obstacles while trying to perform the coolest stunts you could ever do without flipping over and falling down. The game features some beautiful graphics and some nice winter-themed scenery. Complete the course quickly and try to drop the audiences' jaws by your slick moves and dangerous flips. Are you man enough to complete all 10 tough challenges and tricky courses?
Get on your bike and ride through the snowy terrain with your cool motorcycle in this fun motorbike game! Will you be able to complete all the levels perfectly without falling down your bike?
Moto Trials Winter 2 is a free online sports game on Round Games.