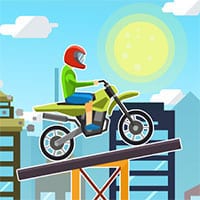 Moto Xtreme Construction Site. Ride your motorcycle on top of a busy construction site high up in the sky. Get your adrenaline rushing as you try not to fall down in Moto Xtreme Construction Site. This takes scrambling to a whole new level and presents some truly difficult challenges. Test out your bike skills and work your way through a number of testing levels.
Use your brakes and acceleration to move your motocross bike through the construction site. You must time your jumps right and avoid falling off the girders and beams. Each level presents a different range of obstacles and if you struggle, you can always restart from the beginning. The stationary platforms are challenging enough, but can you master the moving crane-lifted platforms or will you fall to the ground miles beneath you? Give Moto Xtreme Construction Site a try and become a scrambling pro!
Moto Xtreme Construction Site is a free online sports game on Round Games.