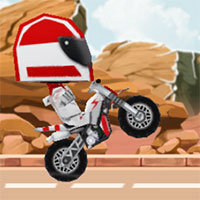 Moto Xtreme Trials is a fast-paced side-scrolling motorbike riding video game in which your goal is to complete the levels by performing various air tricks and ground tricks while collecting coins. Use the coins collected to upgrade your bike or buy a brand new vehicle to ride on. Perform amazing tricks and stunts by dashing through ramps and having some air time! Do some flips in mid-air and score some yummy points!
Hop on your cool motorbike and drive as fast as you can! Perform tricks and stunts in the air and earn some hard earned cash in Moto Xtreme Trials! Will you be able to complete all levels and unlock all the cool vehicles? Good luck and have fun!
Moto Xtreme Trials is a free online sports game on Round Games.