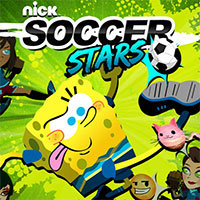 Nick Soccer Stars takes your favorite Nickelodeon heroes and pit them against each other in a competitively fun soccer game. Face off against opponents from different anime and cartoon series as you fight for the championship. Use your special moves to take out the other team and to score the winning goal! Each character has their own special skill, so use the skills wisely. Nick Soccer-Stars features a tournament mode and a random matchup mode. You can also unlock other characters like Patrick Star.
Play as your favorite Nickelodeon character and go face to face with other stars. Play an innovative soccer game in Nick Soccer Stars. Charge up your power meter and unleash your character's power in the field just to score a goal at all cost.
Nick Soccer Stars is a free online cartoon sports game on RoundGames.