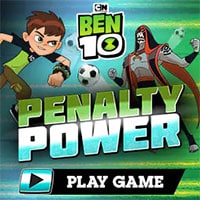 Penalty Power Ben 10 is an awesome Ben 10 soccer penalty shootout game. The competition is heating up in this cool faceoff matchup. Ben 10 has always been good at football and he is determined to challenge his forever enemies. Choose the Alien who will accompany you during the matches and start the competition! During the attacking phases you will have to score as many goals as possible without the goalkeeper being able to stop your shots.
During the defensive phases you have to read the trajectory of the ball and a maximum saves and thus get a better score than your opponent. To win the tournament you will have to beat 5 different heroes, who will be stronger and stronger. Are you ready to help Ben 10 in a football match? Select your type and swap roles after time runs out.
Penalty Power Ben 10 is a free online sports game on Round Games.