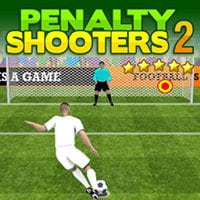 Pick your favorite league among England, Spain, Germany, Argentina, or even Russia or North America! Then start competing in matches, alternating between scoring penalties, and stopping them as the goalkeeper. Penalty Shooters 2 features 360 teams from 12 leagues. For each league you first play the group stage, and then proceed to the knockout stage.
Use your mouse to play this game. Click and hold to aim and shoot. Release to make the kick. Click and hold to make a save (your goalie will start moving towards to pointer). Release to dive. Note that the goalkeeper is smart enough to remember where you shot previously, so remember to switch it up! This game is one of the sports games at RoundGames.
Penalty Shooters 2 is a free online game on RoundGames.