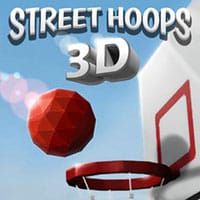 Street Hoops 3D is an awesome street basketball game. You must use your mouse to aim your shot – pull back the mouse and watch the curve of your shooting arc – this will determine how far your high your ball. You only have a certain amount of shots to use – each time you score a basket you get an additional ball to shoot with – try to score as many consecutive shoots as possible!
For each basket you score, you gain points – see what high score you can reach! Once you have shot your baskets, you can watch a replay of your shooting skills to see how you could have improved your technique! If you enjoy basketball or sport, you will love the challenge Street Hoops 3D presents.
Street Hoops 3D is a free online sports game on Round Games.