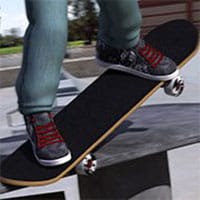 Swipe skate returns with all new features & improvements! Swipe skate 2 is a 3D physics-based skateboarding game with intuitive swipe controls and awesome graphics.
New features:
-Improved Physics
-Better Graphics
-Grinding
-Deck Editor with Cloud Sharing
-4 Different Levels
-Gold to Collect
-Upgrades to Unlock
Check out the tutorial in-game to get a hand of the controls.
-Swipe down on the ground to go forward.
-Swipe and hold left or right on the board to turn.
-Swipe up or down on the board to Ollie(jump).
-Swipe across the board while airborne to do flip tricks!
Swipe Skate 2 is a free online sports game on Round Games.