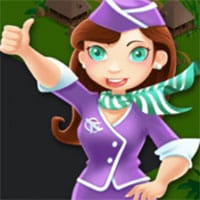 Airport Buzz is a mobile friendly airport simulation / management game where your goal is to guide the various passenger planes in the airport so that they won't crash with each other, land safely, and land on time. The game features very cute graphics (chubby airplanes), sweet music, and a nice kid-friendly gameplay. Drop off those passengers happy and earn your money! Play on different tourist locations starting in the wonderful island of Hawaii.
Travel around the world in your big passenger plane! Take control of busy airports in this fun family friendly airport management game – Airport Buzz! Satisfy the customers by dropping them safely and on time! Help the planes land and take off safely in this game! This game can be played on all devices.
Airport Buzz is a free online time management game on Round Games.