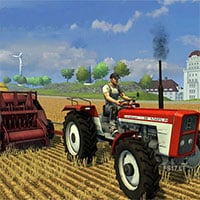 Farming Simulator is a beautiful modern farming video game where the player takes the role of a farmer who must drive a truck and operate various machinery to plow the field, plant seeds and harvest the crops. This version of Farming-Simulator is very similar to the official downloadable game but has less content. However, the general gameplay remains the same.
Be a responsible farmer and create a productive, efficient, and wonderful farm! Drive around with your tractor in Farming-Simulator! Plow the field, plant the seeds, and wait for your crops to grow! Harvest them all and earn some hard-earned cash!
Farming Simulator is a free online time management game on Round Games.