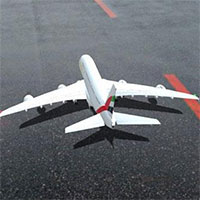 Practice piloting an airplane taking off, controlling the airplane, and landing without crashing in Flight Simulator Online Game. Landings may be the most challenging part of this beautiful job. So practice and become an experienced pilot to enjoy each and every journey upon the great mountain landscape. Change the camera to suit your preferences for a more realistic experience. Enjoy the flight, captain! Have fun with Flight Simulator Online! Flight Simulator Online Game is a superb flying simulator with realistic controls and great 3D graphics. You can control a range of different planes and fly around the map in whichever way you want. First build up power in your engines and take off from the runway. Once you are up in their air you must gain a decent altitude in order to avoid crashing into any mountains or obstacles in Flight Simulator Online Game.
You can fly your plane in several different viewing modes. You can either fly from the cockpit for a more realistic flying experience, or fly in a third-person view so you can enjoy your surroundings and the scenery. When you have had your fill of flying, you can practice your landing technique too on the runway and even park the plane in one of the bays. Have fun in the skies and try your hand at flying today in Flight Simulator Online Game!
Also make sure to check out Drone Flight Simulator Game and Airport Manager Game. You may enjoy playing them.