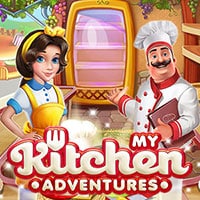 My Kitchen Adventures Game: Manage your restaurant and become a world-renowned chef! Do you have what it takes to be an excellent cook? Put your skills to the test and play My Kitchen Adventures, the most exciting restaurant management game!
In My Kitchen Adventures Game: You were interviewed for the position of assistant chef and have just been hired! First, your boss will guide you through the recipes and tell you where to find your ingredients. Then, when you have finally made the kitchen your own. He will occasionally appear with helpful advice and will praise your hard work in My Kitchen Adventures!
As your cooking skills increase, you will face new challenges and recipes. But that's not all! You will also serve the dishes to the customers. Will you be able to cope with all the orders? Deliver your orders as fast as possible, and don't mix them up! Be careful not to burn anything on the stove or it will only be good enough for the garbage. When customers are satisfied, they leave generous tips! You can use this extra money to improve your kitchen with new appliances and utensils, and make your place the best restaurant in town! Enjoy playing My Kitchen Adventures Game.
Make sure to check out Cafe Panic, Cinema Panic, Cinema Panic 2, Mad CEO and The Doctor Hospital Game. We picked up these games for you from our time management games. So have fun.