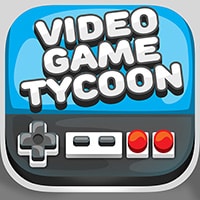 Video Game Tycoon is an idle clicker business strategy game where you are the creator and in charge of running a game studio company that develops PC / Computer, console, mobile games and more. Your end goal is to expand your business as much as you can to come out to the top as the leader of the mobile gaming market. Run your own video game company and become the creator in Video Game Tycoon Game. Tap and Build your game company by making games, hire employees, make money, upgrade and build your idle studio! Upgrade and grow – Plan your cash investments and level up your studio with multiple stored upgrades.
Create video games empire from scratch in Video Game Tycoon Game:
Make awesome and different games, customize them, name them and launch them! You can even update them! Customize game icon using icon customization tool. Create, select, edit, modify your game icons and design the best game icon for your games. Profit from a smart game or two to boost your economy and create your own video game dev company story. Make games for PC / Computer, Consoles, Mobiles and more in Video Game Tycoon Game! Become the best video game creator for PC / Computer Consoles, Mobile. Game analytics and more As a creator, you must check ratings and reviews of your games created on PC / Computer, Console, Mobile. Also check statistics such as number of installs and uninstalls of your games. So become the best video game creator and a leader of games industry.
Hire and manage employees in Video Game Tycoon Game to increase your money per click. Automate your tap tap workflow to increase your idle income. Hire employees, name them, customize them and hire them! Every employee has a special clicker tycoon effect. Get a glimpse of the story of their lives by reading cool and funny messages from employees either thinking or talking. Run Operations and Earn Passive Income Get idle cash, even when you are offline. As a creator of games in Video Game Tycoon Game you have to buy PCs / Computers, consoles, laptops, mobiles for testing games, get internet etc. So get whatever it takes to keep the company going and earn benefits in the form of passive income.
Also you might like to play more Tycoon Games:
Smartphone Tycoon
Idle Startup Tycoon
Hotel Tycoon Empire