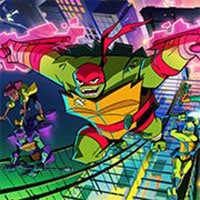 City Showdown TMNT. Help the TMNT members Raph, Donnie, Leo, and Mikey fight off the bad guys and protect Manhattan in this turn based strategy game. City-Showdown TMNT is based on the new 2D-animated television series. It is called Rise of the Teenage Mutant Ninja Turtles that you can watch on Nickelodeon TV channel. The game follows the Turtles battling their foes on throughout Manhattan/New York City. And upon completing three stages, a bonus level to the Hidden City is unlocked. Enjoy and have fun in playing this free online game.
Continue to click on the game, till it launches.
City Showdown TMNT is a free online action game on Round Games.