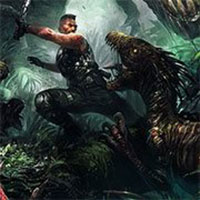 Dinogen Arena is the super fun shooter game based on the classic game Dinogen. You are a soldier alone in the middle of a dangerous dinosaur invasion. You must try to survive by defeating all of the dinosaurs with your guns and expert soldier instincts.
There are two game modes to play on this game, you can play the endless survival mode game in which you are faced with a never-ending plague of dinosaurs to fend off. Survive as long as you can to gain a high score. Or you can a ranked mode where you will be set different challenges. Good luck!
Dinogen Arena is a free online action game on Round Games.