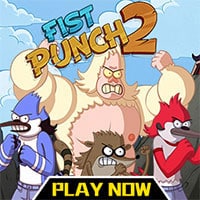 Fist Punch 2 is a side-scrolling wacky beat'em up game based on the popular Cartoon Network TV series, The Regular Show. The game features the amazingly vivid and cartoonish graphics. And smooth movements of modern games and combined it with the action-packed gameplay of the many classic retro games. The game can also be played with a friend by sharing the same computer! Show the gangs that you are not to be messed with in this wacky brawling game!
Get ready for some wacky action brawling as you join Rigby and Mordecai in this funny action brawler video game – Fist Punch 2! Play the game and unlock Margaret and Skips to fight all the bad guys together!
Fist Punch 2 is a free online action game on Round Games.