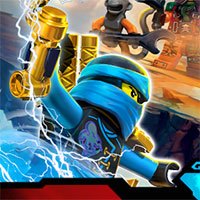 NINJAGO Skybound is a Lego Ninjago game based on the TV series for kids. In this game, Djinn Nadakhan is stealing parts of the Ninjago island to rebuild his realm in the sky called Djinjago. By stealing parts of the island, he is causing great harm. When other members of the team tried to stop him, he defeated them with his army of Sky Pirates. In this game, you will control the ninja Jay and you must rescue Zane, Nya, Lloyd, Cole and Kai, and save the entire land!
The evil Djinn Nadakhan is up to no good again. Play as Jay and battle the gang of Sky Pirates to rescue your friends and rebuild Ninjago in NINJAGO Skybound! Use your ninja skills to fight your enemies and face Djinn Nadakhan himself!
NINJAGO Skybound is a free online action game on Round Games.