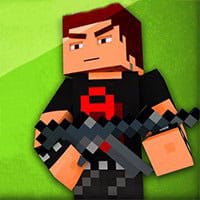 Pixel Warfare 5 is a minecraft inspired massive multiplayer online first person shooting game. Where you can play with dozens of players from across the world and compete on various skirmishes. The game features dozens of game modes and maps including some that are available on the previous versions. The game features improved frame rate performance, network performance and stability allowing more players to join in a match without experiencing lag. Play on Team Deathmatch and go on a killing spree with your team in this awesome free to play game.
Control your blocky character, pick up your pixelated guns, and shoot micro bullets in this Minecraft-style MMOFPS game – Pixel Warfare 5! Prove your skills and be the top scorer on ever game mode you play.
Pixel Warfare 5 is a free online action game on Round Games.