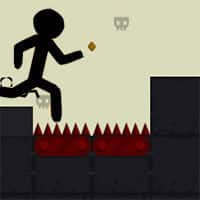 Stickman Boost is an epic platform game with intense and challenging gameplay and awesome stickman characters. If you enjoy this title, you are sure to love the Vex series as these games share man similarities. With 10 different complex stages to work through, and two bonus stages, this game has great playability and will provide hours of fun!
Use the keyboard arrow keys to move your stickman character and perform cool moves like a double jump and a rolling slide. You must navigate through each level and overcome various obstacles such as deadly spikes, circular saws and large gaping chasms. You can use different special abilities too like a super boost and a jetpack! This game is so much fun and one of the best platform titles we have seen in a while!
Make sure to check out the 2nd version: Stickman Boost 2 Game.