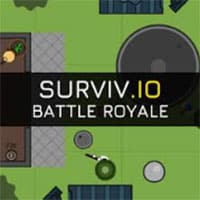 Surviv.io is a Battle Royale style .io game which you can play in your browser. It's a 2D game that's based on PUBG, Fortnite, and other Battle Royale games. In this game you have to find weapons and equipment to arm yourself. After a certain time, a red dangerous zone is approaching, stay away from it at all cost! The winner of a match is the last player alive. Have fun!
Survivio is a truly ruthless game. You must act quickly and look out for approaching enemies at all times. You must look out for loot such as ammo crates, weapons and body armor – these items will help your survivability and enable you to dish out damage to your opponents. When shooting, watch out for the reload time of your weapons and try to pick up as much ammo as possible – you don't want to be caught short in the middle of a firefight! So can you conquer this survival game and defeat all other players in Surviv.io Game?
Also make sure to check out SnowWars.io Game and ZombsRoyale.io Game. You may enjoy playing them.