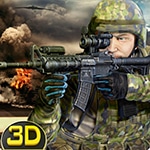 Assault Zone is a first person shooter game where you play the role of an elite soldier with a not so simple mission: to eliminate all hostiles in the facility. This simple first person shooter game challenges you to anticipate the enemy and move cautiously. Enemies are mostly hiding behind cover and will surprise you in every corner. However, the enemy lacks AI and will not move. Try to shoot down the enemy first before they shoot you or you'll ran out of HP before killing them all.
There are 100 hostiles in the area and you are sent to neutralize them all! Shoot down the bad guys first before they take a shot at you in Assault Zone! Infiltrate the enemy base in this first person shooter game and eliminate all enemies.
You may also enjoy playing Hide Online Game, that we picked up for you from our action games.
Assault Zone is a free online shooting game on Round Games.