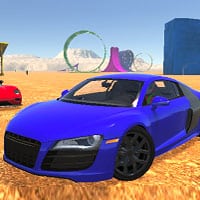 Ado Stunt Cars 2 is the awesome driving game in which you will jump behind the wheel of a turbo charged super car and use your driving skill to perform radical stunts. There are 3 amazing maps to race around, each including a host of ramps. In which you can use to gain major air and perform tricks out of this world.
There is a good selection of cars to use, pick your favorite and head to the course. You have complete freedom to do whatever you like with no time limit or mission to complete. So fuel up, seat belt at the ready and drift to your hearts content.
Also make sure to check out Ado Stunt Cars Game and Ado Stunt Cars 3 Game. You may enjoy playing them.