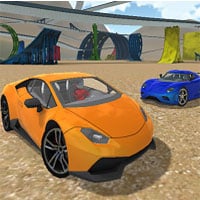 Ado Stunt Cars is an awesome stunt game in which you can unleash your inner stunt driver and perform a variety of awesome stunts in your super fast sports car. The vehicles you can choose from are awesome and have cool colors and powerful engines built for speed. As you race around and collect points you can purchase new and improve vehicles.
The open world is yours to explore and dotted around the landscape you can find a range of ramps, loops and obstacles on which you can perform your epic stunts. Drive where you want, drive as fast as you want, and drive as recklessly as you want! If you want, you can even crash your car into a wall or drive it off a cliff! Have fun and explore this open world whilst churning out some amazing stunts!
Also make sure to check out Ado Stunt Cars 2 Game and Ado Stunt Cars 3 Game. You may enjoy playing them.