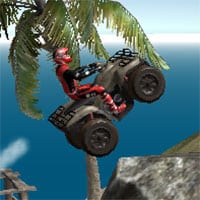 ATV Beach 2 is the second installment of the fun 3D ATV-driving game ATV Beach. The game features another 10 levels that are even more challenging than the first game. The goal of this game remains the same, you must complete the track as fast as possible. Every time you fall down your vehicle or hit the rider you will respawn to the latest checkpoint with a time penalty. Will you be able to complete another 10 challenging levels? Show your ATV riding skills, race against the time and good luck!
The all-terrain driving challenge is back! Drive your ATV across the beach for another 10 levels in this fun game – ATV Beach 2! Go over barrels, docks, and boats in this cool motor challenge!
ATV Beach 2 is a free online 3D driving game on Round Games.