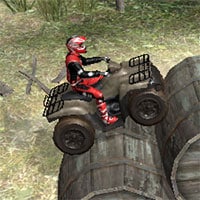 ATV Beach is an ATV-driving game where you race against the time to complete dozens of courses across the beach and overcome various challenges while riding your all-terrain vehicle (ATV). You must complete each course as fast as you can, and if possible, without crashing. If you crash, you will spawn back to your latest checkpoint with a time penalty. The game features 10 tracks/levels, each level is significantly harder than the last.
Get across the beach in style and dash through various obstacles with your all-terrain vehicle in this fun racing game! Complete all 10 levels of challenging courses and prove that you are a one mean ATV rider!
ATV Beach is a free online driving game on Round Games.